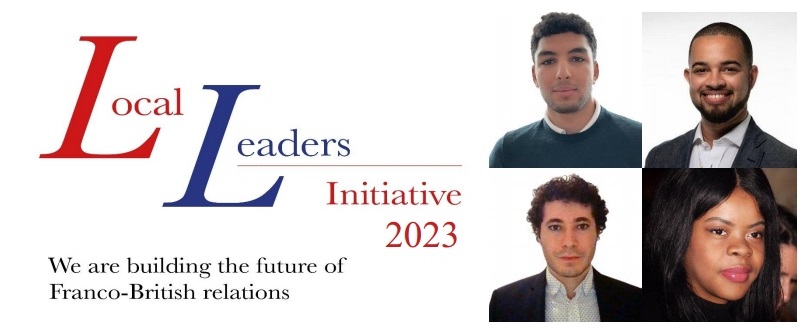 The Local Leaders programme is dedicated to supporting the social mobility for young people in both countries. It brings talented individuals aged 20-30 from disadvantaged backgrounds who have demonstrated exceptional entrepreneurial qualities for the benefit of their communities.
The Franco-British Council selected four new Local Leaders in 2023, bringing the network to 45 Local Leaders since the program was created in 2017.
Le programme Local Leaders est dédié à la promotion de la mobilité sociale des jeunes dans les deux pays. Il rassemble des jeunes talents âgés de 20 à 30 ans issus de milieux défavorisés ayant démontré des qualités entrepreneuriales exceptionnelles pour le bénéfice de leurs communautés.
Le Conseil Franco-Britannique a sélectionné quatre nouveaux Local Leaders pour l'année 2023. Ils viennent s'ajouter au réseau de 41 Local Leaders depuis la création du programme en 2017.
Local Leaders 2023 / Les Local Leaders 2023
Marwan Ben Moussa, Research Assistant / Cambridge Judge Business School (Cambridge Center For Alternative Finance) / Assistant de Recherche / Cambridge Judge Business School (Cambridge Center For Alternative Finance)
Adam Jogee, Cabinet Member for Economic Development and Community Cohesion, London Borough of Haringey and Political Adviser to the Shadow Environment Minister / Membre du Cabinet chargé du Développement économique et de la Cohésion communautaire de l'arrondissement de Haringey à Londres et Conseiller politique auprès du Ministre de l'Environnement de l'opposition
Mohammed Tahir, Researcher (PhD student) at Chalmers University of Technology and Thales Alenia Space in the frame of the ANTERRA EU project (Marie Skłodowska Curie Actions grant) / Rechercheur (PhD student) à Chalmers University of Technology et Thales Alenia Space dans le cadre du projet ANTERRA EU (Marie Skłodowska)
Emilia Tambwe, Founder / Fondatrice, IFAL – International Aspiring Leaders / Paralegal – Construction Litigation at Mayer Brown LLP