Séminaire online sur l'impact du COVID-19 / online seminar on the impact of COVID-19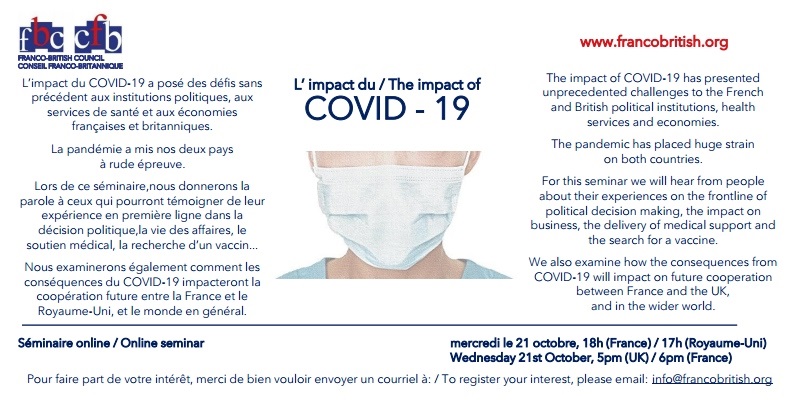 Le Conseil Franco-Britannique / Franco-British Council organisera un séminaire online sur l'impact du COVID-19 en France et au Royaume-Uni – mercredi le 21 octobre à 18h (France) et 17h (Royaume-Uni).
L'impact du COVID-19 a posé des défis sans précédent aux institutions politiques, aux services de santé et aux économies françaises et britanniques.
La pandémie a mis nos deux pays à rude épreuve.
Lors de ce séminaire,nous donnerons la parole à ceux qui pourront témoigner de leur expérience en première ligne dans la décision politique,la vie des affaires, le soutien médical, la recherche d'un vaccin…
Nous examinerons également comment les conséquences du COVID-19 impacteront la coopération future entre la France et le Royaume-Uni, et le monde en général.
Pour faire part de votre intérêt, rsvp à: info@francobritish.org
–
The Franco-British Council / Conseil Franco-Britannique is organising an online seminar on the impact of COVID-19 in France and the United Kingdom on Wednesday 21st October at 5pm (UK) and 6pm (France).
The impact of COVID-19 has presented unprecedented challenges to the French and British political institutions, health services and economies.
The pandemic has placed huge strain on both countries.
For this seminar we will hear from people about their experiences on the frontline of political decision making, the impact on business, the delivery of medical support and the search for a vaccine.
We also examine how the consequences from COVID-19 will impact on future cooperation between France and the UK, and in the wider world.
To register your interest, please email: info@francobritish.org